HubSpot has many attractive and customizable themes, landing pages, email templates, and other modules.
At HubSpot, you have the choice for choosing the proven sales email templates that saves your time, helps you reach out to your prospects, make them take action, keep a follow-up, and share with them meaningful resources that build long-lasting relationships.
Email campaigns are very useful for businesses. The campaigns must move away from the regular sales pitch to something that adds value.
Your HubSpot email template can make it possible for you.
Benefits Of Using Evoque HubSpot Email Templates:
I will tell you some reasons why you need to be using Evoque HubSpot email templates:
It is easy to use: Easy to download, easy to drag-and-drop, easy to customize and use it forever.
Find ways to connect with prospects: The email templates make your connection with prospects simpler and durable.
Get Convertible emails: Make your prospects take action, and make them your customers.
Build long term relationships: The templates are there at every stage of your business and it helps in building a long-term connection with your customers.
Personalize and Tailor your Content: You can easily customise and tailor your content for each recipient.
Helps in better Customer Relationship Management: These templates can serve as the best CRM for your business.
If you are looking for customised HubSpot email templates? click here to order now
Simple Ways To Get Started With Evoque HubSpot Email Templates :
It is very easy to use Evoque Email Templates from Hubspot. Follow these simple steps to get started:
Go to your 'Hubspot Asset Marketplace'
Now go to the 'Marketing Tab' and select 'Create Email'
Choose the 'Drag and Drop'.
Now 'Drag and Drop' your favourite Base Template.
A pop-up box will now appear. Name your Email Campaign and click 'Create Email Button'
The email template will be an editable one. You can add content, change color, change font, add image, add hyperlinks, videos, clips, or anything you wish.
Save your Email campaign
Then press the 'Next Button', you will now reach the 'Settings' Tab
Choose your Subscription Type and Campaign Type.click next.
10.Now, Add your 'Recipients'. You can customize it for each Recipient.
11.On 'Review Page', ensure everything entered is proper. If not, Resolve it. Go 'Next.
12.You can 'Send Now' Or 'Schedule it for later'. Also you can schedule on a Time Zone basis.
Are you Ready for the email blast? Try it out!
Best Email Templates You Can Get From Evoque: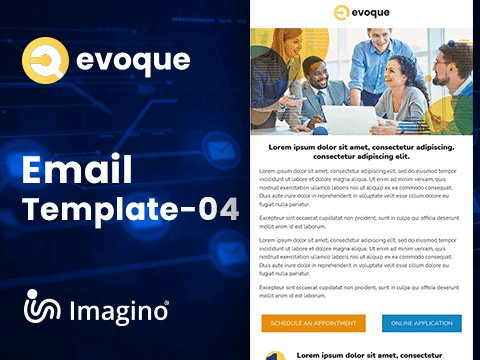 Cold Prospect Email Templates:
The short and compact cold email templates can urge prospects to take action.
It also helps in adding value for your brand.
Share Useful Resources Template
Share your company news and useful resources that can help in building a long- term relationship with your customers.
Follow Up Template
Follow-up email templates can be used for each stage of the buyer journey.
Also, use this template for following up with the ones who went into the dark zone for a while.
Double Your Conversion Rate With Evoque HubSpot Email Templates:
Now you'll be able to create your very own successful campaigns using custom HubSpot email templates.
You have now read the ease of using HubSpot email templates. You can use the same email template for different campaigns by simply changing the content, and it is guaranteed for a lifetime.
Click here to order your custom HubSpot email template now
Evoque HubSpot Email Templates Guarantees You:
Unique & Premium Quality designs
Drag and drop compatibility
100% responsiveness
Excellent customer support services with full satisfaction from our customers.
Tested and verified with three revisions
Five workdays turnaround
Get your custom-made and latest version of Email Template from Evoque now and redefine the overall outlook of your business.
Evoque offers modern, and fresh designs that you can incorporate for your brand and can work for any type of email you want to send.
The email templates are optimized, responsive, and customizable. It incorporates designs that match your brand guidelines.
The clean and modern designs of Evoque email templates attract eyeballs and make them a part of your brand!
(For any queries or issues in using Evoque Email Templates, feel free to contact us or Find Us on HubSpot https://ecosystem.hubspot.com/marketplace/solutions/imaginosolutions-com)