In the previous article ( Digital Marketing:The What and The How), we have discussed some key factors which are important before implementing a digital marketing strategy. As you already know, digital marketing has taken the industry by storm and is now a business necessity for any company. If your business isn't visible online, it might not be discovered by potential customers. That's why it's so important for brands to have an effective digital marketing strategy in place.
So this time, we will be looking into different types of digital marketing strategies which will help you get the most out of your online presence.
But what exactly is a digital marketing strategy? A digital marketing strategy is a plan that helps your organisation achieve a specific goal through the use of different marketing channels. These channels are platforms that you can use to reach your target audience. For example, Websites, E-mail, Social Media etc.
Now, let's take a look at some of the most common types of digital marketing strategies that will help you stand out from the crowd and increase your brand's presence online. They are,
Table of Contents
1) Search Engine Optimization also called SEO
In Layman's terms, SEO is the process of increasing the visibility and quality of your website so that it comes up on top of the search results page (SERPS).
SEO is all about attracting visitors to your site. When users type in words ( typically known as keywords) into the search box or search engine, your website should have the potential to appear on top of the SERPS. Commonly known search engines are google, bing or even yahoo!.
So, how do you optimise your website for SEO?
You can start by making your website more useful and interesting.
You also need to know what your visitors are looking for and give it to them.
Make sure to use relevant keywords in your titles and descriptions so that your website will rank higher on the search engines.
Provide an appropriate amount of content.
And most importantly, make sure to create a responsive web design so that mobile and tablet users can have the same experience.
2) Search Engine Marketing also called SEM
SEM is a digital marketing strategy that is quite similar to SEO but it involves promotion of websites through paid advertising.
A good example of SEM is PPC, also known as pay per click advertising. These are online ads run by advertisers and they pay a fee every time someone clicks on their ads. Google Ads, which are the most popular type of ad, actually operates on a pay-per-click model.
Now let's take a look at some advantages of SEM.
They help you reach your target audience easily.
They appear quickly in search results pages.
They help you learn which ads are driving sales.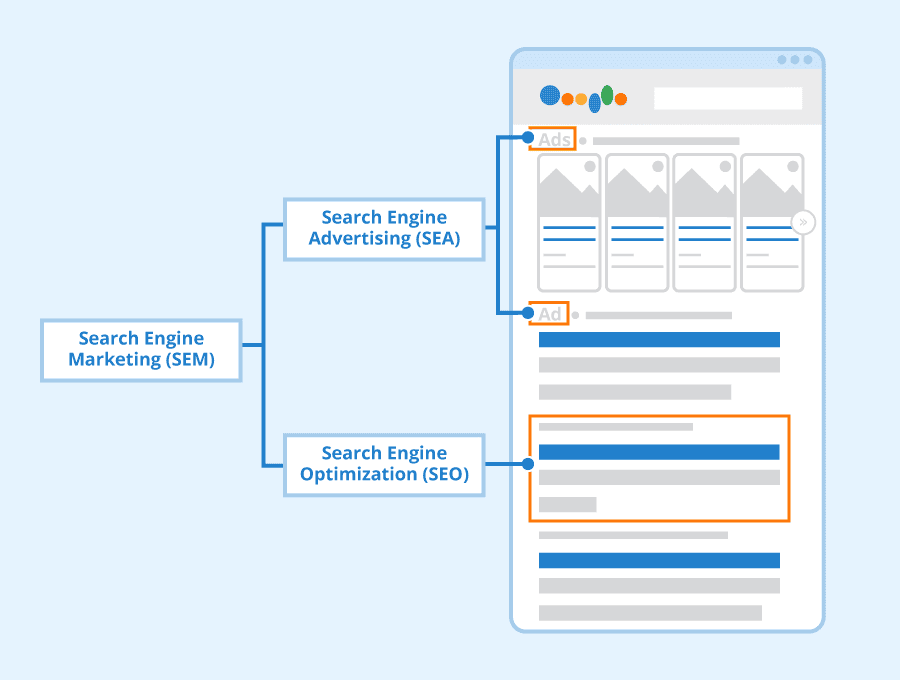 You can see how SEO and SEM ads are placed on the search results page.
3) Social Media Marketing also known as SMM
SMM is another digital marketing strategy that is used to create content across social media platforms to promote your brand, products or services. These platforms are usually the ones we use in our day-to-day lives such as Facebook, Instagram, Twitter, Linkedin etc.
So, how can social media marketing help your business?
It helps you increase your brand awareness.
It helps you target new customers and gain valuable insights.
It helps you build a better relationship with your existing customers.
More importantly, we need to know what is required for a good social media strategy. They are:
Knowing the goals of your content or campaign.
Listening to your audience and engaging with them.
Planning and scheduling your content properly.
Analysing the data and reporting them to your stakeholders.
An example of a social media recruitment ad campaign tailored to people who are looking for job opportunities in the web development industry.
4) Email Marketing
Email marketing is one of the most effective tools in digital marketing. It helps you to connect with your customers and promote your product or service by sending emails and newsletters. These emails are typically about new products, promotion, discounts etc.
Apart from this, emails can also be personalised based on your customers interests. This is called email segmentation. By segmenting your emails, you can send relevant emails to your target audience based on a specific criteria.
For example, if you are running an e-commerce store, you are required to send emails like welcome emails, curated emails, engagement emails and discount emails to maintain a strong relationship with your customers.
5) Display Advertising
Display advertising is another great way to promote your products or services through visual ad formats. These ads are usually placed on websites or applications.
For example, Google Display Ads.
When you browse through a website, read an article or watch a video, you may come across google ads in the form of a banner or an image.
Furthermore, a display ad can save time, have a broader reach and are really easy to track. But before creating a responsive display ad, you need to make sure that you include an appropriate amount of content, headlines, unique copy and relevant context that connects with your target audience.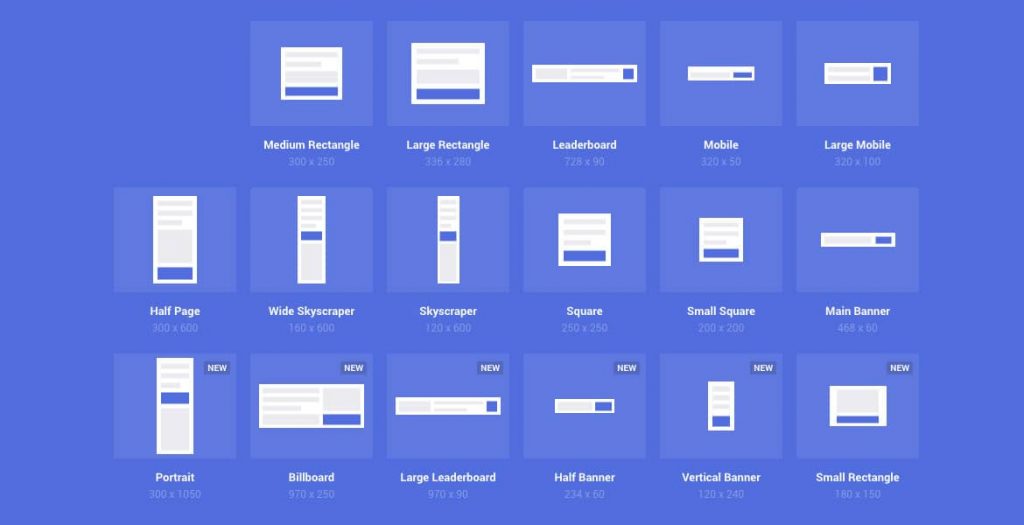 As you can see in this image, these are some of the ways in which you can create your display ad.
6) Mobile Marketing
Mobile marketing is a form of digital marketing that is aimed at reaching your target audience through smartphones, tablets and other hand-held devices. This is done through websites, push notifications, mobile apps, social media
and SMS.
So, why is mobile marketing important?
Since most of us are on our phones, more than our computer these days, mobile marketing can really help create connections with customers more easily.
It is relatively inexpensive compared to traditional marketing
It also helps businesses reach mobile users in specific locations.
Mobile ads get better responses as mobile users pass by these ads more often than on a desktop.
Conclusion
So, these are some of the most commonly used digital marketing strategies that can help build your business online. However, there are still more strategies out there which can help promote your business effectively. In order to implement a digital marketing strategy, you need to take a step back and look at your business goals. What are these goals and how can you achieve them? This step helps you define your marketing objectives and make sure that your digital strategies are aligned with these. Feel free to contact imaginosolutions for digital marketing consulting.
See also:
Digital Marketing: The What and the How